Trolling. It's more important now than ever.
When contrarian commentator Bret Stephens was hired by the New York Times as a columnist, there was an immediate outcry from climate scientists and the pro-climate policy community. Some cancelled their subscriptions:
Why I cancelled my @nytimes subscription. @BretStephensNYT pic.twitter.com/A3lFZNJdhY

— Stefan Rahmstorf (@rahmstorf) April 27, 2017
Stephens had been on record as describing climate change as an 'imaginary enemy'. The timing was odd. NYT has just hired a high-profile climate team and was selling itself with the slogan "Truth. It's now more important than ever."
The hire was defended by James Bennet, editorial page editor:
"The crux of the question is whether his work belongs inside our boundaries for intelligent debate, and I have no doubt that it does. I have no doubt he crosses our bar for intellectual honesty and fairness."
So Bennet has given us the criteria by which Stephens' columny can be judged:
It needs to contribute to intelligent debate,
It needs to be intellectually honest, and
It needs to be fair.
On Friday April 28, the NYT published Stephens' first column "Climate of Complete Certainty". Yep, in his first outing he has gone for the hot spot. So, how does he do?
The first thing he does is to 'bait' and 'frame'.
The bait
The bait describes the recent US election. Stephens describes how the Clinton camp was overconfident of winning the election and lost, giving examples from a couple of the main players and recent books. This is setting us up for a decision with two outcomes where the odds-on one lost. Now the switch. It must be time to talk about scientific consensus, where there is some odds-on scientific theory.
The frame and anchor
The frame is mixed in with the bait. Climate science and policy is reduced to a yes/no decision based on science being 100% correct. Stephens says rhetorically, "Why? The science is settled. The threat is clear. Isn't this one instance, where 100 percent of the truth reside on one side of the argument?" This drops an anchor at 100% certainty of the science, or else.
Dog whistle
Time to introduce some uncertainty. His job from here is to emphasise the inherent uncertainty in science and argue that it is being overstated. The implication is that if the science is not 100% right, a strong policy response may not be justified.
Straw man
The question should be one of risk. Stephens says that much of what passes as fact is really a matter of probabilities. More dog whistling, because that is how climate change and its consequences is being communicated right now.
If we factor in all the probabilities, including that of the science being wrong, a strong policy response is merited. The do-nothing case or slow, cautionary policy response position needs to admit that adapting to a 3–5°C warmer world without fragmenting governance and wrecking the global economy is a huge risk. The odds of succeeding with a net economic benefit are worse than the science being wrong. The science provides the evidence, but the policy position is based on risk and that is where most of the uncertainty lies.
This would be the honest and responsible position – but by reducing this to a binary decision tied to 100% certainty in the science, Stephens has created a straw man. Because, as he says, no science is 100% certain.
Concern trolling
"None of this is to deny climate change or the possible severity of its consequences. But ordinary citizens have a right to be skeptical of an overweening scientism", Stephens writes. Sure, they do. They also have the right to be skeptical of overweening strawmanism.
Littering is wrong
"They know – as all environmentalists should – that history is littered with the human wreckage of scientific errors married to political power."
What on earth is he talking about? Where is this litter? Coal-fired domestic heating? Nuclear weapons? Perhaps he means computer science, space science and electronics bringing in universal surveillance. But none of these are scientific errors per se – I cannot think of an instance where science was wrong and where those errors were aligned with political power except in Stalinist Russia. If we are looking for examples where science was right and ignored by political power, there is plenty of litter. If we are looking to where risks were overlooked, again there is plenty of detritus.
"Perhaps if there was less certitude about our climate future", he writes. What does this mean? The last IPCC report did not even provide temperature ranges for 2100, beyond those tied to specific emission futures. Again, presented in terms of risk.
There is a world outside America
The rest of the world, save some backpedalling by Australia and to a lesser extent the UK, are getting on with addressing climate risk. They don't appear to have been buffeted by the massive scientific hubris Stephens is so concerned about. They seem to be able to accept the science, as imperfect as it is and formulate policy, as imperfect as it is. Perhaps the real problem is cultural rather than scientific, with Stephens presenting himself for the moment as Exhibit A. But, just at this moment in the US, there is plenty of competition for that position.
Judgement
So we come back to Bennet's criteria. Did Stephens' first column:
Contribute to intelligent debate? Not even close.
Was it intellectually honest? Are you kidding?
Was it fair? No, but there was lots of straw.
Bennet of NYT Editorials had no doubt that Stephens would meet his criteria. Perhaps Stephens should have a chat with his boss and warn him about the risk of overconfidence leading to overstatement.
Stephens responds (update May 1st)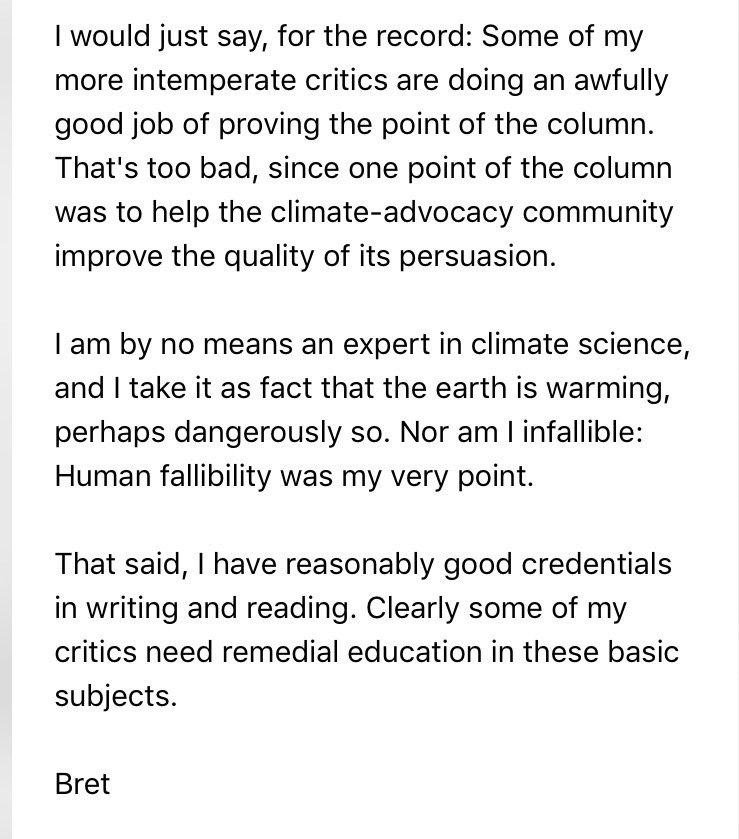 Question: do I need remedial education?
10 Responses